Preview: The Boys Are Back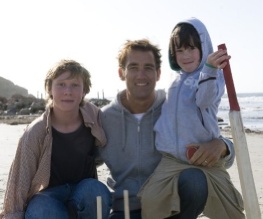 From the title of this film and the dramatic black-and-white posters currently lining tube stations to promote its release, you could be forgiven for thinking The Boys Are Back was another of the brutal, tough-living gangster flicks we've been seeing so much of lately (hello 44 Inch Chest and the upcoming A Prophet). In fact, it's about as far from the shoot-em-up genre as you can get – based on journalist Simon Carr's memoir, it's the story of a grieving father forced to raise his two young sons alone after the death of his wife.
Sports writer Joe (Clive Owen) has moved to Australia from England, leaving behind his teenage son from a previous marriage to raise a new family with the woman he loves (Laura Fraser). After her death from cancer, the previously absentee dad must learn to be a single parent to their young son Artie (Nicholas McAnulty). His "Just Say Yes" philosophy of parenting sees life become an exuberant, crazy distraction for the grief-stricken pair, but it doesn't work so well when he begins dating fellow single parent Laura (Emma Booth), who has more sensible child-rearing ideas in mind, nor when his regimented English son (George MacKay) comes to stay for the summer. For those who prefer tear-jerkers to fight scenes, and appreciate the wonderful work of Mr Owen as much as we do (he's also executive producer in this instance), this could be well worth a look.

The Boys Are Back is released Friday 22nd January
About The Author