Preview: The Lovely Bones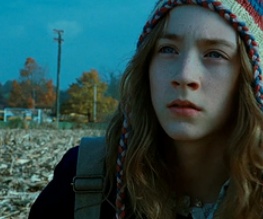 Imagine if Steven Spielberg had directed Twilight, or James Cameron the first Harry Potter film. That's the level of hype we're talking here, when one of this generation's best-selling books joins forces with one of the biggest directors of our time in this month's The Lovely Bones. The Peter Jackson-directed fantasy-drama, based on Alice Sebold's novel, is the story of Susie Salmon, a 14-year-old girl who is murdered and transported to heaven, where she must watch over her family and help them solve the mystery of her death.
It's 1974, and Susie (Atonement's Saoirse Ronan) is living in Pennsylvania with her average American Joe family, consisting of mother (Rachel Weisz), father (Mark Wahlberg), grandmother (Susan Sarandon), sister (Rose McIver) and brother (Christian Thomas Ashdale). When she is raped and murdered by a mentally-disturbed neighbour (Stanley Tucci), Susie ascends to a fantastical, flower-power-esque limbo world between life and death, and watches over her family, who remain on Earth devastated and baffled by the circumstances of her disappearance. While her father struggles to solve the case himself, her sister edges dangerously closer to the killer's lair, and Susie must guide her family to a resolution while coming to terms herself with the reality of a world without her in it.
Reviews in the US, where the film has already been released, have been mixed, suggesting that Jackson paid too much attention to both the sinister and the supernatural aspects of the narrative, and not enough to the characterisations and the overall message of redemption that made the book so resounding. But regardless of the critics' opinions, it's worth going to see this one for yourself.
The Lovely Bones is released Friday 29th January
About The Author