Randy Quaid in refugee plea to Canadian court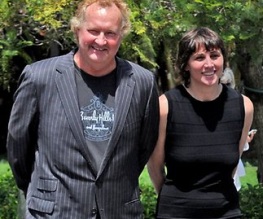 Rather a bizarre story in the news this Monday morning concerning the older of the Quaid brothers, Randy. Perhaps best known to audiences for his role as Chevy Chase's hillbilly Cousin Eddie in the National Lampoon films, and for performances in Independence Day and Brokeback Mountain, Randy Quaid was reportedly denied permanent residency by immigration officials in Canada last week.
Following two years in the True North, apparently fleeing from "Hollywood star whackers", the actor and his wife have filed an appeal to the federal court amid claims that their lives are in peril.
"Organised crime and its victims are serious issues and can not be tossed off until the claim is heard," the couple stated in their application for judicial review this week. "The refugee claims should remain intact as should Evi and Randy Quaid's heads remain attached to their necks and it is their firm belief that their lives are at stake and being racketeered on." Randy being no stranger to controversy, this most recent trouble for the Quaids apparently began in 2010 when the pair were arrested for causing $5,000 in damage at a home they were renting. They subsequently pleaded not guilty, but failed to appear in court after posting bail. Later, Randy and Evi Quaid resurfaced in Vancouver claiming that they could not return to the USA because their lives were threatened.
This is not the pair's first brush with the law over the last decade. Randy Quaid has been involved in several legal disputes which have been reported in the press. In 2004, he sued Focus Features claiming that they had intentionally and negligently misrepresented Brokeback Mountain as "a low-budget, art house film with no prospect of making any money" in order to secure Quaid's professional acting services at below-market rates. His $10,000,000 suit was dropped after Focus Features reportedly paid him a bonus, which they deny.
Then, immediately proceeding the events concerning their current troubles in Canada, the couple were entangled in a dispute over a hotel bill. Accused of leaving a hotel in Santa Barbara without paying a $10,000 balance, the pair were arrested, failed to turn up in court, forfeited $40,000 bail and then had their case subsequently dropped by the District Attorney, though Evi Quaid was sentenced to serve 240 hours community service.
How this latest odd conspiracy against them will end it would be rather difficult to predict. What we will venture to predict though is that the film career of Randy Quaid may well be eclipsed by his escapades off-camera, and will almost-certainly become the subject of a film itself. Are Randy and Evi fast becoming the Biggest Bad Couple of Hollywood? There's a film title right there.
Randy and Evi Quaid: Innocent or Guilty? Mad or Bad? LET US KNOW
About The Author