X-Men sequel: Rogue, Iceman and Shadowcat return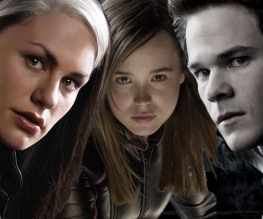 Speculation over which mutants are likely to return to the X-Men franchise in X-Men: Days of Future Past has been causing us stress, delirium and extra wrinkles. We can now reveal that X-Men director Bryan Singer has FINALLY pulled his finger out and Twitter-announced the return of 3 exciting characters; Rogue (Anna Paquin), Iceman (Shawn Ashmore) and Kitty Pryde (Ellen Page)! Singer has already declared the return of X-Men legends Sir Ian McKellen and Sir Patrick Stewart, so this latest news has us all aquiver with Marvel-agitation.
HERE IS THE PROOF! YOU CAN'T CHANGE YOUR MIND NOW BRYAN, IT'S BEEN TWITTIFIED!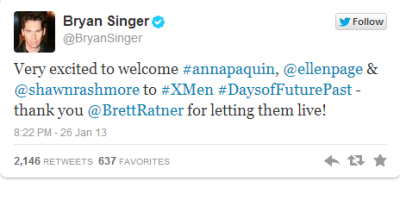 Interestingly, Singer's thanks to X-Men: The Last Stand director Brett Ratner for not killing off these 3 characters poses another intriguing question about the plot for X-Men: Days of Future Past. X-Men fans have so far been given breadcrumbs regarding the story in the new film, but we do already know that the plot will take on the concept of time travel. Suffice to say we're more than a little sceptical about the return of some more original X-Men characters, like Cyclops and Jean Grey.
You'll remember Paquin and Ashmore as the star-crossed lovers from the original trilogy, last seen actually touching after Rogue is left powerless, having taken the mutant cure. We saw Iceman confronting Pyro and finally taking on the appearance of his comic book counterpart, whilst Kitty Pryde had taken on the Juggernaut and won. Where will X-Men: Days of Future Past see these characters next? Will Iceman literally just be an ice.. man? Will we be seeing more of Kitty? Surely Rogue won't be just a mere boring human? Only time will tell. But we're dying. Tell us more, Bryo.
Already returning to reprise his role as hairy hunky Wolverine is Hugh Jackman, co-starring alongside Jennifer Lawrence, James McAvoy and Michael Fassbender. The X-Men wrap party is sure to be blast in a glass. There's no sign of Alan Cumming just yet though – sad face.
Expect to see X-Men: Days of Future Past hit your cinemas in July 2014! How do you feel about the return of these 3 characters? Let us know below.
About The Author