Real Steel Movie Trailer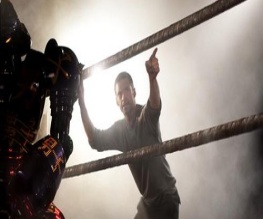 With Transformers: Dark of The Moon on the way for a June release, the next big robot smashing each other film is set for October 2011 in the form of Real Steel. Hugh Jackman plays a former boxer in the near future where human fighters have been replaced by monstrous machines that beat the oil and circuit boards out of their opponents in giant robotic tournaments.
Shawn Levy (Date Night and How To Talk To Girls) is behind the camera as director, while Kevin Durand (Robin Hood) and Evangeline Lilly (The Hurt Locker) will be supporting Jackman as he and his robotic pal take on the boxing world.
While the premise is a little sketchy, the film actually looks halfway decent. Who doesn't like robots beating each other up for entertainment? Real Steel is set to hit cinema screens October 7th 2011.
About The Author