'Red Coat Girl' ashamed of her role in Schindler's List?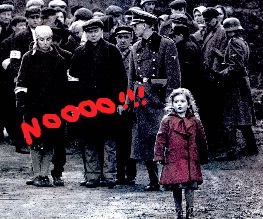 Everyone who's seen Steven Spielberg's wildly affecting Holocaust film, Schindler's List, will remember the little girl in the red coat – and her ridiculously unhappy-ever-after. It's probably the most memorable scene in the film, actually – so it comes as a shock to everyone that Oliwia Dabrowska has since admitted she was "ashamed" of her role as a scarlet-coloured Holocaust victim.
During an interview with The Guardian, the Polish actress admitted that, after breaking a promise she made to Spielberg swearing she wouldn't watch Schindler's List until she was 18, she quickly found herself to be hugely traumatised by the events she'd witnessed on screen.
"It was too horrible. I could not understand much, but I was sure that I didn't want to watch ever again in my life… I was ashamed of being in the movie and really angry with my mother and father when they told anyone about my part."
That probably had something to do with the fact that Oliwia Dabrowska was just 11 TINY YEARS OF AGE when she allowed herself to watch the film, in which she stars alongside the multi-talented Liam Neeson, for the first time. We're traumatised watching it now and we're actual, proper grown-ups. Check out Oliwia's infamous stint as 'Red Coat Girl' below:
That little splash of red is the focus of everyone's attention in this otherwise numbing clip, which sees a tragic Liam Neeson watching the Nazi soldiers commit their atrocities as they begin the liquidation of the Kraków ghetto. No wonder the real life Red Coat Girl found herself utterly distraught the first time she glimpsed herself amongst the devastation, later to be seen dumped in a cart of bodies.
However, after revisiting the film as an 18 year old, Oliwia has finally come round to the fact she starred in Schindler's List, realising that: "I had been part of something I could be proud of".
Which scene of Schindler's List did you find the most traumatising?
About The Author