Red Dawn trailer and poster hit the web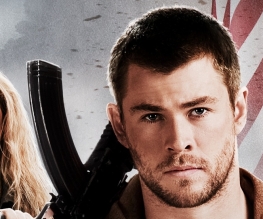 Poor Chris Hemsworth. Any film that doesn't have him swinging a hammer and having hair like Reese Witherspoon and chances are you aren't going to see it for at least three years after it's done. Fiendishly clever horror Cabin in the Woods hit our screens in April but was completed in 2009, and the similarly overdue Red Dawn remake has finally got itself a brand new trailer and poster before it's finally released in November.
Following the same route as the 1984 original starring the late Patrick Swayze and 'winning' wonder Charlie Sheen, the new version sees Hemsworth lead his younger brother (Josh Peck) and a band of youngsters armed to the teeth in a fight to reclaim their home town after it's invaded by those pesky North Koreans. Guns are locked and loaded, speeches are made and everything starts to look like Modern Warfare very, very quickly.
Considering that there's been three years to tinker with this trailer the end result isn't that bad. All eyes are on Hemsworth, and understandably so – he's the biggest money magnet on show. Hopes are also high(ish) for the two Joshs; that'd be Peck, who hasn't really done anything of merit since The Wackness, and Hutcherson (who was last seen staring stupidly into Jennifer Lawrence's eyes in The Hunger Games). And who can forget to mention the briefly shown Connor Cruise, whose Dad is exactly who you'd think he is.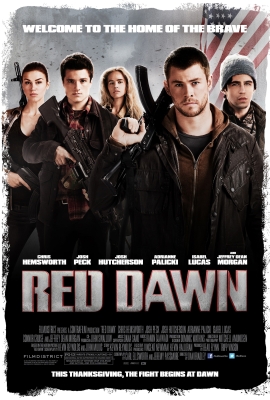 What do you make of the trailer and poster? Let us know below!
By Nick Staniforth
About The Author