Reese Witherspoon Has Big Eyes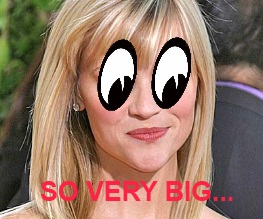 You know what we haven't had many of recently? Biopics. We miss biopics. Oh sure, there's The Iron Lady. And J. Edgar, actually. And, okay, all the other biopics. Fine. But have any of them got Reese Witherspoon and Ryan Reynolds in them?
Exactly.
Big Eyes looks set to be a deliciously unromantic addition to the genre, based around the lives of Margaret and Walter Keane. The husband and wife duo became an inexplicable hit in the 1950s when they began painting creepy pictures of children with distressingly big eyes. Hence the title, we guess. But then the pair filed for divorce and things quickly turned sour. Why? Because Walter wasn't exactly doing his bit; Margaret was doing all the actual painting. Cue a fab lawsuit and a live paint-off…
So this is a pretty interesting story, set to become even more interesting when Tim Burton (oh he of Edward Scissorhands fame) gets his mitts on it. We're predicting bigger and better eyes, for example, not to mention even creepier children. And probably some sort of nightmarish hallucinations which inspired these images. You know Burton, after all; he loves the crazies.
Will this signal Burton's triumphant return to Good Burton (a la Nightmare Before Christmas) or tumble him further into the pits of Bad Burton (a la anything he's made in the last five years)? Can Reese Witherspoon convincingly hold a paintbrush? And just how big will those eyes really be?
Only time will tell.
About The Author