Resident Evil 5 confirmed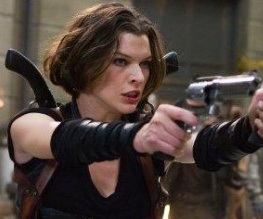 Well, it's pretty hard to argue with the stats. Resident Evil: The Afterlife opened at the number one spot in the US, even though reviews all around have been pretty lukewarm. The makers have taken this as indication that the world is baying for more Resident Evil action, and have confirmed that number 5 will be getting made. Whoopee.
Evil star Milla Jovovich seems appropriately thrilled with the whole idea; talking to Vulture she said "This new Resident Evil is the first one to ever open at No. 1 worldwide. It's the biggest movie in the franchise, so we're definitely going to make another one."
And best of all, they're not even really going to bother coming up with a story this time. Oh no, that duty will be left to us. The fans. Director Paul W.S Anderson has said
"We've been talking to a lot of fans on Twitter and stuff, so it's probably going to be one of the first movies where we really talk to fans to see what they want, and what characters they want to see. It's going to be a more interactive process."
After all, why let trained professionals do their jobs, when you can let the baying horror that is the twitterverse dictate your moves? Excellent.
About The Author