Resident Evil 6 set for 2014 release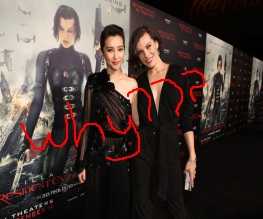 If you enjoyed Resident Evils 1-5 (raise your hand, the three of you) then GOOD NEWS! The sixth installment will be heading for cinemas on September 12 next year. However, it is unknown whether Milla Jovovich will be returning to don the leather catsuit and fire massive guns at everything once more, neither is it known whether Paul W.S. Anderson will be back in the director's chair. That said, both Milla Jovovich and Anderson have previously expressed an interest in taking it to the Umbrella Corporation again, with the director suggesting that the fifth and sixth installments might act as a finale to the franchise's second trilogy.
The fifth film, Resident Evil: Retribution did fairly well racking up $220 million at the box office last year; despite being lampooned by Resident Evil fans and critics alike. This is largely unsurprising given that its two main stars were Milla and the perma-angry Michelle Rodriguez. Michelle will be part of another rapidly deflating franchise, Fast & Furious – the sixth of which rolls out in cinemas this summer.
Based on the figures it looks like Sony and Screen Gems have an idea of where they want Jovovich's Alice to do next. If they're wise however, they will pull the plug on the whole thing before it gets ridiculous. Well, ridiculous-er. Until then, Anderson is reportedly set to start work on a remake of historical drama Pompeii at some point this year.
About The Author