Riddick kills all of the CGI in first trailer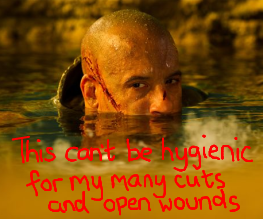 Riddick returns in the long-awaited (?) followup to 2004's The Chronicles of Riddick, thus fulfilling the prophecy that Vin Diesel would ascend from the darkness and deliver unto us yet another sub-par space thriller. The first trailer has popped up for Riddick and, well, it's pretty bad. No offence, Vin Diesel, but Riddick is looking particularly old hat these days.
Feast you eyes on this:
It didn't exactly blow us away. It looks as though Riddick is trying to blend the disparate genres of Pitch Black (poorly-lit monster horror on an alien planet) and The Chronicles of Riddick (poorly-lit CGI mess on an alien planet) into one film. Unfortunately, they've blown the first rule of horror (if that's what they were going for, it's anyone's guess) and plastered the stupid CGI monsters all over the place.
Maybe just stick to Fast and Furious movies, eh Vin Diesel? Riddick blasts into inevitable mediocrity on 6th September, and co-stars Karl Urban, Dave Bautista and Katee Sackhoff.
What did you think of the first Riddick trailer? Let us know in the comments below!
About The Author