Ridley Scott's Alien prequel to be "really… really nasty"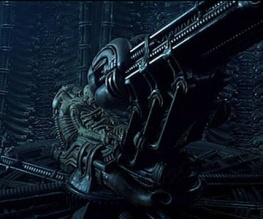 Ridley Scott has warned Alien fans that the next instalment in the iconic franchise will be "really tough… the dark side of the moon".
Scott, who directed the original 1979 film, has signed on to helm two more films exploring the world made famous by Sigourney Weaver's Ellen Ripley and John Hurt's exploding thorax – and despite originally claiming he would not be tapping into the original storyline, it looks as if he's working on a tie-in script after all.
The first of the films will be set in 2085 – thirty years before the original – and will feature another female lead although Ripley will not be present. It is set to explore the back story of the derelict spaceship which the crew of the Nostromo board, and in particular the mysterious 'space jockey' which is found dead after apparently incubating a 'chest-burster' Alien.
Scott has publicly stated his intention to create a blockbuster capable of beating Avatar, and with both prequels scheduled to be shot in 3D it sounds like they could certainly look as spectacular as Jim Cameron's magnum opus. Hopefully the story will be a little more coherent…
About The Author