Robert Duvall To Play Gilliam's Quixote?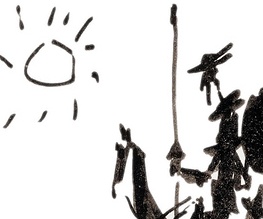 It's a dream so crazy that even the infamous Man of La Mancha would be impressed. Cinema's favourite dreamer Terry Gilliam is forging ahead with his abandoned project The Man Who Killed Don Quixote, which was dropped in 2000 after a series of truly unfortunate events. Original lead Jean Rochefort had to drop out when the extensive horse-riding integral to the part caused a herniated disc in his back. If that wasn't bad enough, unseasonal rainfall caused a flash flood that destroyed sets and equipment on only the second day of the shoot.
But like Cervantes' noble hero, Gilliam didn't let the pressures of reality dissuade him. After a truly epic wrangle for the rights of the screenplay, he and producer Jeremy Thomas are ready to get back in the saddle and start tilting at windmills again. With Rochefort now unable to play the part, veteran actor Robert Duvall (The Godfather, Apocalypse Now) has told Collider that he's in line to play Quixote, with filming taking place in Spain and other parts of Europe. Taking the project ahead will depend on getting a budget – something Gilliam has struggled with on almost all of his previous productions since The Adventures of Baron Munchausen.
The film – which is also mooted to start Johnny Depp, though his involvement is far from confirmed – is a modern retelling of the classic 17th Century Spanish novel. Instead of Quixote's faithful squire Sancho Panza being a fat, lazy and rather dim peasant, Gilliam's re-imagining sees him as an advertising executive (potentially Depp) thrown backwards in time. After the success of The Imaginarium of Doctor Parnassus, it seems hopeful that studios will stump up the cash. Well, that's what we're dreaming of, anyway.
About The Author