Robert Patrick to replace Bryan Cranston in Gangster Squad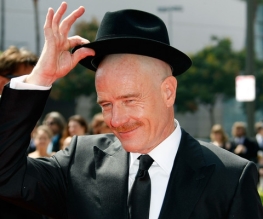 We, like you, thought Bryan Cranston was an invincible force of acting power, taking on role after role in upcoming films and still having time to turn the 'Outstanding Lead Actor in a Drama' Emmy into the 'Bryan Cranston Award'…or 'Cranstie'. However, something had to give in his epic work schedule, and that something was Gangster Squad, which Cranston has had to pull out of.
The man being touted to replace Cranston is Robert Patrick…you know, the one from The X-Files? No, not Mulder, the other one! Oh, you stopped watching The X-Files when Mulder left? Turncoat.
Anyway, Patrick will be joining an already strong cast that includes Sean Penn, Ryan Gosling and Josh Brolin among others, as well as the rumoured addition of the lovely Emma Stone. Patrick will be playing a Texas-born LAPD officer who "ambitiously enforces the law". The film also seems to be taking a leaf out of The Wire's book, being scripted as it is by an ex-LAPD officer. So it'll be really realistic and gritty and stuff.
About The Author