Robert Pattinson and Kristen Stewart reunited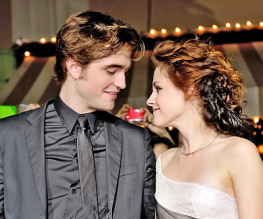 Stop, stop, stop what you're doing. It's being widely reported that Robert Pattinson and Kristen Stewart have rekindled their relationship. Yes that's right, Robert Pattinson has scraped up the vestiges of his bruised and battered testicles and returned them to their rightful place on Kristen Stewart's mantelpiece.
The period following the news that Stewart had been having an affair with Snow White and The Huntsman director Rupert Sanders has evidently been really tough for the couple as there have been some pretty radical changes in the pair's respective behavior. Poor Kristen has been seen walking around biting her lip, being miserable and just generally looking like she needs a good wash whilst Rpatz has been doing interviews where he repeatedly runs his hands through his hair and smiles nervously whilst making self deprecating statements. With such obvious cries for help on display, we are so glad that normality has resumed and the two can begin to heal the emotional scars they are so clearly suffering from.
Wait, what? What's that you're saying? You think this whole thing was a massive publicity stunt carried out by someone who has been acting professionally since the age of 12, starred in one of the highest grossing franchises of all time and is therefore aware that most photographers probably know how to use the zoom function on their cameras and knew that being captured awkwardly embracing someone who seems to slightly disgust them would be enough to convince stupid people they've been having an affair with their director and that the resulting publicity would make their really mediocre film a massive success?
Nah. There's no way that's feasible.
About The Author