Adele records Skyfall theme tune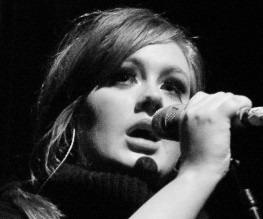 With the sense of crushing inevitability normally only reserved for England penalty shoot-outs, it's been announced that omnipresent soul warbler Adele has recorded the theme tune to the new James Bond film Skyfall.
Recording a Bond theme used to be a prestigious honour; one that was reserved only for musical royalty (and Sheena Easton). If you'd been chosen to do a Bond theme, you could be pretty sure you were doing alright. Recently, however, the tradition has fallen somewhat into ill-repute. Can anyone really hum a Bond theme from the past 15 years? Probably not. Whereas classics like Shirley Bassey's Diamonds Are Forever are classics for a reason.
Adele, however obvious a choice, is also probably quite a good one. Her dominion over the charts extends far beyond the borders of hers and Bond's homeland, and thus the song (apparopriately titled Skyfall) should have appeal in plenty of different markets. Her signature ballads and admittedly powerful voice should serve her well in the genre of the Bond theme, and her stature as a global music icon makes her more suited to the job than many of the recent efforts (with all due respect to Jack White, Chris Cornell, er… Garbage).
Skyfall, complete with a theme song you'll be hearing on repeat in every supermarket, shop and pub chain that you visit for the next 6-8 months – to the point where you'll wish wish the sky would fall – will be hitting cinemas on October 26th 2012.
About The Author