Rocky Horror Remake. Gleek Off, Ryan Murphy.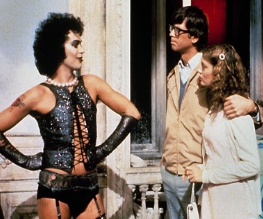 I've never had a thing for a cross-dresser before. But the sweet transvestite from transexual Transylvania in the form of a fishnet-clad Tim Curry, really sets my train a-steaming. And I'm sure I'm not the only one. There must be a reason that The Rocky Horror Picture Show is the longest theatrical release in history. It may be because of its spangled amazingness. But I think it's Tim.
But why the need for a revamp? Surely it's proved itself worthy, making more then 100 million bucks and still inticing audiences for a fancy-dressing, midnight musical, hot patooting time.
But as per usual, someone suffering from a mid-life crisis feels the need to trade it in for a younger model. And they've asked the gleek, Ryan Murphy to give The Rocky Horror Picture Show a Gok Wan style makeover. Rockylicious. Bleurgh.
Even if Murphy hadn't directed Eat Pray Love, I would have still said a very firm NO to the remake, whilst brandishing a ray gun. Yeah, he's ok at the whole musical thing (even if it does give me a tinge of cringe) but just because he's made a Rocky Horror style Glee episode, does not mean he can get his paws on the treasure itself.
Dammit, Janet. Don't touch-a, touch-a, touch it.
About The Author