Ron Howard might direct Neil Gaiman's The Graveyard Book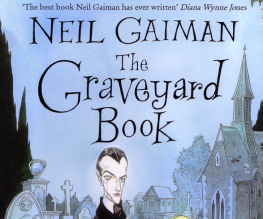 Last year it seemed as if visionary Coraline director Henry Selick was attached to direct Neil Gaiman's award-winning children's fantasy novel, The Graveyard Book. The plan was to make it a stop-motion picture, much like the strange and wonderful Coraline. Unfortunately, the discussion was halted and never picked up again – UNTIL NOW. Frost/Nixon director Ron Howard is reportedly in negotiations to helm The Graveyard Book, which, if the decision is made for definite, will be shot in live-action instead.
Neil Gaiman's The Graveyard Book was inspired by Kipling's The Jungle Book. But instead of being brought up in a jungle by wolves, The Graveyard Book follows a young boy, Nobody Owens, who lives in a graveyard and was brought up by ghosts after his family were murdered. Although slightly disappointing for Coraline and Gaiman fans to hear that the adaptation won't be stop-motion, it will be interesting to see how Ron Howard brings the characters from The Graveyard Book to life on the screen, considering that most of them are dead anyway. Having never seen anything quite that quirky from Ron Howard before, suffice to say we're intrigued, especially for news on a cast. Currently, nothing has yet been confirmed, but if the adaptation is picked up there'll be a brand spanking new script as well.
Ron Howard is currently finishing a Formula-1 racing film Rush, starring Chris Hemsworth and Daniel Bruhl, which hits cinemas on September 20 this year. Howard has also recently signed on to direct another fantasy adaptation called All I've Got, based on a 2003 Israeli TV movie. So he's just being all kinds of greedy, really.
Are you looking forward to seeing The Graveyard Book hit the silver screen? Do you think Ron Howard will do it justice? Spill your thoughts down below!
About The Author