Rose Byrne and Rafe Spall in first trailer for I Give It A Year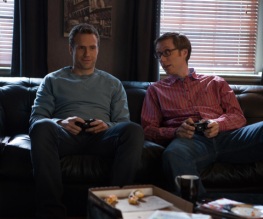 Rose Byrne and Rafe Spall play a couple navigating the choppy waters of a first year of marriage in upcoming rom-com I Give it a Year. The first trailer's arrived, and in the grand tradition of ensemble mega-hits like Bridesmaids, there's a big cast, lots of rude jokes and a token Brit to provide some of the more drawn-out awkward bits. Except this is a Brit-com, so there's loads of us! And Anna Faris. And The Mentalist. What more could you want?
It doesn't look terrible. And any trailer for a Brit-com rearing its head this late in 2012 that doesn't look like the final sign of an impending Mayan Apocalypse is surely reason to celebrate. It certainly appears that all the Richard Curtis-grade fluff has been left to history, and the new template for a super-size rom-com relies more on, y'know, jokes and shit.
I Give it a Year almost comes off as a kind of trans-Atlantic sister sequel to Bridesmaids, given the subject and Rose Byrne's always welcome presence. Which is fine by us, because Bridesmaids was a bloody masterpiece. Elsewhere in this initial offering, Stephen Merchant still knows how to be funny, which is heartening since Ricky Gervais doesn't. Olivia Colman pops up as part of her mandated inhabitance of any media produced in the UK, and generally the whole shebang looks to occupy a much funnier space than detritus such as The Wedding Video. Our RSVP is in the mail.
About The Author