Ryan Gosling Breaks Up "Art Fight"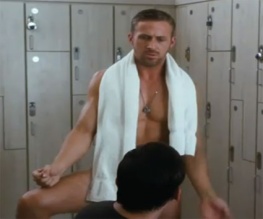 Evidentally miffed by all the attention Kate Winslet has been recieving for her frankly legendary rescuing of Richard Branson's mother from a burning building, other actors are apparently taking to the streets in order to find their own rescue mission, as evidenced by Ryan Gosling's display yesterday.
The thirty-year old Blue Valentine actor, who has spent much of his adult career perfecting the smince (the mid-point facial expression between "smoulder" and "wince") seperated a kerfuffle between two men in NYC yesterday, who were coming to blows over – wait for it – a painting.
Allegedly, one of the men stole the painting from an Astor Place artist, who then pursued the artist down the street. The incident was about to go to blows when, for some reason, Ryan Gosling shows up. Dressed fetchingly in a nautically striped tank-top, Gosling apparently mediated the fight before eventually paying the artist $20 for the painting and letting the culprit keep the painting. Awwww. We hope Ryan Gosling continues to break up oddly pretentious fights everywhere, always.
About The Author