Ben Stiller Receives BAFTA For Excellence In Comedy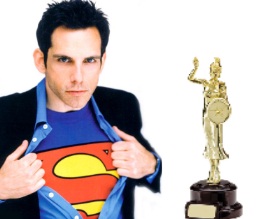 Much to our bemusement, Ben Stiller (of Meet The Fockers and Little Fockers fame) has been named the recipient of the Charlie Chaplin Britannia Award for Excellence in Comedy, BAFTA Los Angeles has announced today.
Specifically commending his performance in Zoolander, Stiller will receive a Britannia Award on November 30th at the Beverly Hilton Hotel, Los Angeles. Come on, Zoolander? Really? Sure it was fun and all that, but is Blue Steel really award-worthy? We can't help but think he put in a far better performance in the utterly wonderful Tropic Thunder (though to be fair, Robert DJ's epic White Man As A Black Man skills completely stole the show) and his disgruntled self-parody in Extras showed he's capable of much more than gurning his way through Dodgeball-eque flicks.
Calling Stiller a "master" of comedy seems an exaggeration, but heck, his movies have grossed more than $5 billion woldwide – who are we to decide, eh?
About The Author