Sacha Baron Cohen to join Django Unchained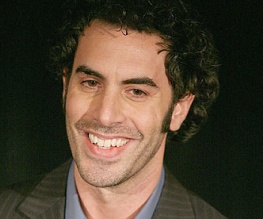 Excellent news: Quentin Tarantino has at last succeeded in getting every actor in the world into a single film. Not only will his upcoming 'Southern' Django Unchained boast the talents of Jamie Foxx, Christoph Waltz, Samuel L Jackson, Leo DiCaprio, Kevin Costner (well, nearly), Kurt Russell, Kerry Washington and RZA, now it seems Sacha Baron Cohen is on the verge of joining the cast.
Baron Cohen is reportedly scooping the last available major role in the epic tale of Django, a freed slave (Foxx) who is mentored by a German dentist-turned-bounty-hunter (Waltz) and given the skills he needs to rescue his wife Broomhilda (Washington) from a villainous rancher (DiCaprio). If all goes well, the Borat and Brüno star will be playing Scotty, a gambler who buys Broomhilda (and presumably gets in Django's way with undignified results).
We're going to be honest, we don't generally have a bad word to say about Tarantino's casting choices. Plus it's a little while since we've seen Baron Cohen do his thing, although fans are due to be thrown a bone when Martin Scorsese's Hugo comes out next month. Consider this space watched!
About The Author