Sacha Baron Cohen to play Freddie Mercury. Ga-ga.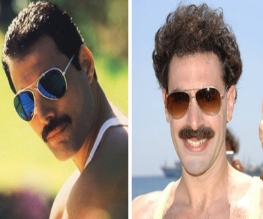 If Freddie Mercury were my guest on Come Dine With Me, I would ask him who he would have play him in a film. In my head, he would tell me (through a mouthful of Teriyaki Salmon) that it would be someone with passion, integrity and charisma.
So, step right up…Sacha Baron Cohen. Sorry, what? Whence would the twain ever meet? A picture of Brian May pulling the name out of a fabulous hat springs to mind. But no, they've been talking about it for a long time, since they started discussing the idea with Frost/Nixon writer, Peter Morgan.
The film is set to be focused on the period leading up to Live Aid 1985 and the rest of the band have decided to keep their bouyant bouffants out of it. Ooh, I wonder who's going to play the rest…
But let me hold my horse, the matter in hand is that Baron Cohen will play Freddie Mercury, there's no way we can put an end to this crazy, little thing. I mean, this is the Fredster; 80's icon, pop icon, gay icon (he'll probably become a mouse pointer soon). It makes me feel a bit sick. All I can see is a Mercury monster made up of Ali G's facial hair, Bruno's camp gestures and Borat's onesie.
Sigh. Another one bites the dust.
About The Author