Samuel L Jackson joins Robocop remake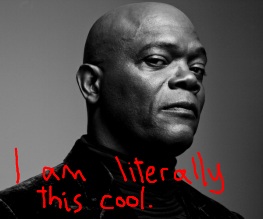 Original badman Samuel L. Jackson has joined Joel Kinnaman and Gary Oldman on the roster of 80s reboot Robocop.
Jackson, currently stealing the show as monoptic super-agent Nick Fury in Avengers Assemble, will apparently be playing a media mogul named Pat Novak. Novak has no direct counterpart in the original film, but we're willing to bet that he'll be taking over from Ronny Cox' malevolent (if boringly named) character Dick Jones as the arch-villain of the piece.
Interestingly, Pat Novak was the title character of a hard-boiled detective radio series from the forties. Pat Novak, for Hire sounds quite hilariously shit – Wikipedia helpfully breaks down the plot of EVERY SINGLE EPISODE as follows:
Typically, a person unknown to Pat asks him to do an unusual or risky job. Pat reluctantly accepts and finds himself in hot water in the form of an unexplained dead body. Sultry females are usually involved. Police Inspector Hellman arrives on the scene and pins the murder on Novak. With only circumstantial evidence to go on, Hellman promises to haul Novak in the next day for the crime. The rapid, staccato dialogue between Webb & Burr is typical of hard-boiled fiction and is often humorous. Pat uses the time to try to solve the case. He usually employs the help of his friend Jocko Madigan – a drunken ex-doctor typically found at some disreputable tavern or bar – to help him solve the case. As Pat asks for his help, Jocko launches a long-winded philosophical diatribe, full of witty and funny remarks, until Novak cuts him off.
Sounds scintillating, doesn't it? We're convinced that the name couldn't be a coincidence, but we've yet to crack the puzzle of just why Sam Jackson is inheriting the name of a detective nobody's thought about in sixty-five years. Watch this space…
Got any clues about Pat Novak? Sling them our way!
About The Author