Scissor Sisters to score new Fraggle Rock movie?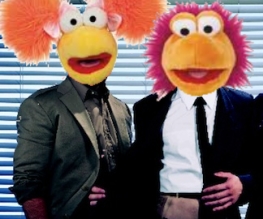 Scissor Sisters' duo Jake Shears and Babydaddy (real name Scott Hoffman – don't let him tell you otherwise) are in talks to write original material for the long-delayed movie based on Jim Henson's much loved TV series, Fraggle Rock. If the project does get off the ground this won't be the Sisters' first involvement with Jim Henson, after Shears performed Take Your Mama at the 2005 Brit Awards with a cast of Henson puppets and singing watermelons.
The movie has been on the cards for quite some time, first being mooted in 2006 by producers at The Weinstein Company. Ahmet Zappa, son of Frank Zappa, was the first writer on the project, though he was replaced soon after by Cory Edwards, writer-director of the surprisingly funny Hoodwinked. However, Edwards attacked Weinstein chief Harvey Weinstein on his blog in 2010 claiming that he was being cut out of the creative process, and that Weinstein wanted Edwards' script to be "edgier". Edwards retorted with: "WHAT is edgy?? Faster edits? Rock music for the score? Boober wearing some gangsta bling? I have no idea. What I DO know is that the word 'edgy' should not be anywhere near this movie." Quite right.
Given the umm-ing and aah-ing over the interweb about this project, we might be waiting a while before anything concrete emerges regarding it. Still, as long as some puppets sing Filthy Gorgeous, I think we'll all be happy.
About The Author