Seagal under siege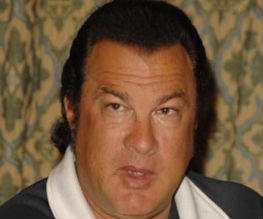 Having committed numerous crimes against acting and decency over the last 20 years, news has emerged that Hollywood laughing stock Steven Seagal is being sued by a former assistant claiming that he sexually abused her and trafficked other women. Kayden Nguyen, 23, alleges that she was Seagal's 'sex toy' and was sexually assaulted three times before fleeing his New Orleans home. Nguyen also added that Seagal kept two Russian 'sex slaves'.
The Seagal camp have vehemently denied these allegations, labelling Nguyen's claims as "ridiculous and absurd". The law seems to be favouring Nguyen's claims, with a California judge giving Seagal instructions to cease filming of his reality show "Steven Seagal: Lawman".
This is not the first time Seagal has courted controversy. Nguyen's allegations of sexual assault and sex trafficking swiftly follow claims made by actress Jenny McCarthy that Seagal demanded she remove her clothes at an audition for Under Siege 2.
Do you believe these allegations of sexual assault or think this is just another Hollywood P.A. trying to make a bit of money? Let us know below…
About The Author