Saw director James Wan to direct MacGyver movie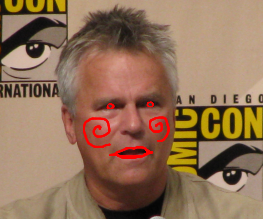 Saw writer/director/cobbler-togetherer James Wan has been signed up to adapt classic DIY show MacGyver for the big screen. A beloved mid-80s TV show, MacGyver used his scientific knowledge and arcane knowledge of the occult to transform everyday objects into useful tools and weaponry. Much like Batman, he hated guns, knew his gadgets and kicked ass till the cows came home. Let's hope James Wan doesn't bring any influences from Saw.
It's unknown whether the film will be a reboot of the MacGyver franchise, or whether the 62 year old Richard Dean Anderson will step back into the titular role. Last seen hanging around cosmic holes in Star Gate: SG1, Richard Dean Anderson is still looking prim, although he will always be a poor man's Kurt Russell to us. It would be pretty awesome to see him reprise his role as an aged and, perhaps, bitter MacGyver (we like our gritty films).
James Wan is something of an odd choice for director. Saw was undoubtedly a decent movie, considering it was shot on a shoestring budget in 18 days. The similarities between Saw and MacGyver are undeniable – a guy rigging together gadgets and machines out of rubbish – but considering James Wan has done little else (Insidious, anyone?) he must have done some smooth talking to bag the MacGyver job.
Luckily there are some other big talents tied up with the script. Jason Richman (Swing Vote, Bangkok Dangerous) has a script floating out there in the ether that was given a once-over by the cousin team of Brian and Mark Gunn (Bring It On Again and Journey 2: The Mysterious Island) so we KNOW we're getting a quality movie here.
We feel dead inside.
Fancy a Saw/MacGyver mash-up? How would MacGyver get out of that skanky bathroom from the first Saw film?
About The Author