Second trailer for The Skin I Live In (it still makes no sense)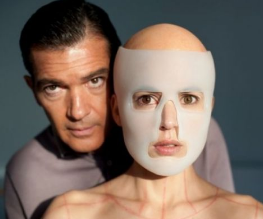 A little over a month ago we got our first look at Pedro Almodovar's new film, The Skin I Live In. The thirty second trailer didn't give much away, but we eagerly anticipated learning a bit more as time went by. Well, the next trailer is here and guess what? Everything is still deeply confusing.
Based on the novel Tarantula, The Skin I Live In by Thierry Jonquet, Almodovar's new flick apparantly centres on a plastic surgeon determined to punish the man who raped his daughter. If you get that from the below, you've a keener eye than us.
It's 21 years since Almodovar and Banderas worked on a project together, and we have to admit we're intrigued to see if this will be a return to the good old days of Law Of Desire and Matador. Time has not been kind for Banderas of late; Puss In Boots, Zorro, Mr Spy Kids – it's not exactly the record of a legend, is it? Here's hoping that this film will remind us all of how grand he actually is.
The Skin I Live In is released over here on the 26th August of this year, here's hoping the next trailer will tell us literally anything at all.
About The Author