Secret Cinema launch new "recruitment centre" website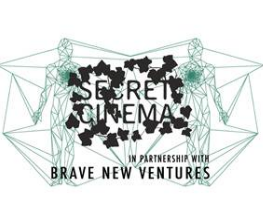 Now, considering we're full of mostly Katherine Heigl based bile here at BFF Towers, when we find a thing we think is brilliant, we want to make sure you all know about it. The ever-glorious Secret Cinema is back, and considering the epic success of their recent Bugsy Malone event, we can't wait to see what they're cooking up to try and top it.
For those who have been watching films in the bloody cinemas like FOOLS, the wonderful people at Secret Cinema endeavour to combine theatrical experiences with a screening of a classic in order to create the entire WORLD of their chosen (mystery) film. Guests are told where to go – never a cinema, obvs – what to bring and what to wear. From there, the experience is entirely in the hands of the professionals as actors, gorgeous sets, music, food, drinks and finally the big reveal of the film itself are played out in front of you. In the past they've screened Lawrence Of Arabia at Alexandra Palace, The Red Shoes at the Tabacco Docks, The Battle For Algiers in Waterloo's underground tunnels and many, many more. At £30 quid a ticket, it may seem a little steep, but considering you get nigh on six hours of solid entertainment for your money we can promise its worth your while.
Anyhoo, the gears are turning for their next extravaganza, and the team are already beginning to drop hints, releasing the following declaration:
A SPECIAL ANNOUNCEMENT FROM THE BNV COMMUNICATIONS OFFICE:
Brave New Ventures Launches Website – Realise Your Next Venture with BNV – WWW.BRAVENEWVENTURES.ORG
22.05.12 – Darwinster, CA – Today, BNV launched a new website to recruit personnel from around the globe for its Extreme Environment Mission Operations. To date, over 15,000 recruits have invested in Brave New Ventures; the secret expedition will launch on 1st June in a central London location.
The recruitment centre is now open at www.bravenewventures.org
Our aim to bring about pioneering work will be achieved through investment from our employees and shareholders. Opportunities will thrive through this new web portal and successful candidates will be fast-tracked in order to further aide this secret expedition.
Potential personnel may undergo rigorous employee assessment at www.bravenewventures.org which shall identify their role within BNV and define their personality profile. There will be nine vital roles assigned as part of the BNV Profession Assignment, including: Guidelink, Control Operator, Control Stabiliser, Investment Aide, Matter Analyst, Ore Surveyor, Data Scientist, Field Analyst and Containment Officer.
There will be four specialised missions for recruits to attend. All recruits are encouraged to attend physical conditioning; these missions will take place in London and are free to attend, including: Physical Conditioning (24th May,7.30pm); Night-time Data Retrieval (25th May, 7.30pm); Psychological Training and Preparation (27th May, 3.00pm) and Quarantine Briefing, Bio-hacking and Real World Biohazard Containment (28th May, 7.30pm)
BNV will provide all the necessary management, guidance, and equipment/supplies required to perform the engineering, science and explorations set forth.
Uys van Welevelt, Senior Vice President of Publicity and Media Matters, Brave New Ventures, says: "BNV is the future. More than 15,000 recruits have joined our mission to date and we thank all for their generous investment. Training is mandatory in order to further our mission; your contributions will be rewarded."
To monitor the status of this recruitment process, check @BraveNewVenture and #BraveNewVentures.

Confused? Intrigued? Find out more and 'enroll' for the process by visiting the official website. We'll stake our very loathing of Katherine Heigl on you having the time of your life.
About The Author