Selena Gomez is James Franco's bitch in Spring Breakers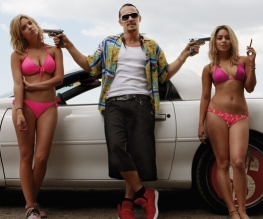 Selena Gomez and James Franco's bizarre pimp-'em-up Spring Breakers was picked up for a wide US distribution by Annapurna Pictures in September, and has now picked up a distributor. It looks like we will get to see Selena Gomez shuffling around in a bathing suit in theatres in Spring 2013. Spring Breakers has turned a few heads, mainly for starring Justin Bieber's girlfriend in a thong.
Selena Gomez is one of four students who attempt to rob a coffee shop in order to fund a trip to the seaside. Evidently misunderstood idiot savants, Selena Gomez et al. are bailed out by James Franco, once again showing off his subtle versatility by playing a pimp named Alien. Sporting 'shades', 'bling', 'heaters' and a 'grill', James Franco enlists Selena Gomez and the Co-eds (we've trademarked that band name, it's ours now) as his Christmas elves. Mostly naked Christmas elves. What fun!
Her is a nasty-lookin' Selena Gomez. She's the skank with the pink jacket: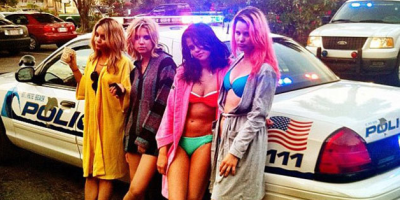 Annapurna Pictures is proving to be an exceedingly interesting and unpredictable production company. Its missions statement is to fund films with artistic merit, whether the project is commercially viable or not. Recent successes from Annapurna have been True Grit, Killing Them Softly, and The Master. Current productions include Foxcatcher (Steve Carell goes crazy/murdery) and Terminator 5.
For more steamy James Franco action, check out the trailer for Oz: The Great and Powerful, in which he stars as the titular Oz.
Is Selena Gomez any good? Will Spring Breakers prove that she is more than the girlfriend of a pipsqueak?
About The Author