Seth Rogen in assassination comedy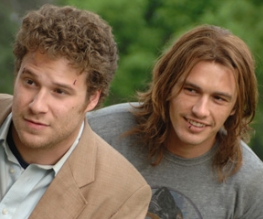 This year marks Seth Rogen's first time in the director's chair. Well, co-directing really, but it still counts! So much so that, Sony are rumoured to have given him and partner Evan Goldberg the greenlight for another high-concept comedy. Based on a story they wrote with Dan Sterling from The Daily Show, The Interview will centre on a talk show host who manages to become embroiled in a plot that seeks to assassinate the leader of North Korea.
Rogen is set to produce and star but it seems it will be his old pal James Franco that is being eyed for the lead role. The two have been regular collaborates, beginning with their time on the TV series Freaks & Geeks prior to the stoner-hit Pineapple Express and now the apocalypse comedy This Is The End. Rogen & Franco will be joined by a host of current stars who will be playing themselves as the world reaches it's climactic end.
The $30 million project won't be put in to production for awhile yet as Rogen is busy starring in Nicholas Stoller's Townies. But fans should certainly keep an ear to the ground for more news concerning this venture.
Is Rogen's brand of comedy suitable for such a politically-touchy pic? Or do you think this is a controversy just waiting to happen? Tell us here!
About The Author