Seven Psychopaths trailer arrives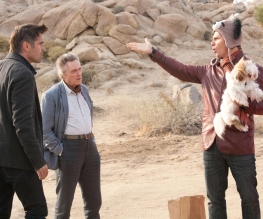 Director Martin McDonagh (In Bruges) is back and, by the looks of the trailer, on top form. We'll struggle to tell you exactly what the plot is, but it's got Christopher Walken in, so who cares? There's some kind of dognapping business being run by Walken and Sam Rockwell (Moon), but then they accidentally dognap the Shih Tzu of notorious gangster Woody Harrelson (The Hunger Games, but more importantly, Cheers) and then there's some shooting and just a barrel full of hilarity.
Olga Kurylenko, the Bond Girl Who Cut Her Own Ear Off, is there, along with Abbie Cornish, soon to be seen in Robocop. Colin Farrell, a returnee from In Bruges, plays Rockwell's best friend, growly growly rock legend Tom Waits plays an old man with a bunny and Gabourey Sidibe (Precious of Precious) finally gets to forget her harrowing film past and do some comedy.
Micky Rourke apparently dropped out of The Expendables 2, which opens tomorrow, in order to take the dog-loving gangster role, but later dropped out of filming and was replaced with Harrelson after calling McDonagh a 'jerk-off'. Fascinating and newsworthy stuff. All Seven Psychopaths will be hitting our screens on 12th October – check out the trailer and get yourselves excited.
About The Author