Shia LaBeouf debuts new art exhibit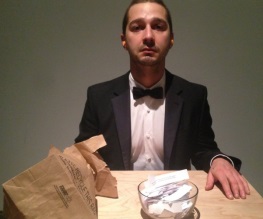 We've written a lot about Shia LaBeouf this week. We started off the week mocking him, like we and everyone else has been doing for weeks, and then we had a bit of an attack of conscience and wrote this about how, whether or not he's actually unwell, we're doing a bloody awful job of responding to his behaviour. And now, in what we're choosing to believe is a direct response to our blog, Shia's doing something else.
The Nymphomaniac star, whose behaviour has become increasingly erratic (culminating in him wearing a bag labelled 'I AM NOT FAMOUS ANYMORE' on his head at the Berlinale) is at the centre of a new exhibit which invites art-lovers or the terminally speculative to come face to face with Shia. We suspected something new was about to happen when Monday became the first day in three weeks that his Twitter account didn't automatically spew out the message 'I AM NOT FAMOUS ANYMORE', and it seems this is it.
A collaboration with performance artist Nastja Säde Rönkkö and someone called Turner, who is apparently a 'meta-modernist', #IAMSORRY is a stripped-down installation which appears to invite visitors to confront the effects of fame. Based in Los Angeles, attendees are invited to choose a talisman from a table of vaguely Shia-themed objects – a Transformers toy, a piece of paper with some tweets about him written on it, that sort of thing – and then walk into a small room where LaBeouf is sitting at a small table with the now-ubiquitous bag on his head. He won't speak, and he stares at you, and mostly it looks like he's been crying. The photo above was taken by Andrew Romano for The Daily Beast – he wrote a short but illuminating blog about visiting the project and unmasking Shia.
We don't know what to make of this. Is Shia fine, and just really into saying it with badly conceived modern art? Is this the point at which someone who loves him should step in? We've made our position on Shia LaBeouf clear, and we're certainly not willing to take the piss out of him now – hopefully he'll either step out of the public eye for a bit or clarify just what's going on.
Are you in LA? Have you been to #IAMSORRY? Let us know below.
About The Author