Simon Cowell to make (and star in) an animated movie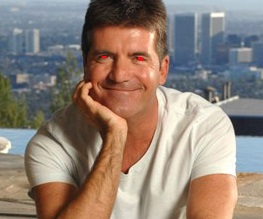 Simon Cowell, in a bid to reinject some serious oomph into those "it's the end of the world!" rumours, has announced that he's set to make AND star in an animated film. The script of which he has apparently been busy working on for the last ten years.
Did anyone else just feel a shiver run down their spine?
Sadly this one isn't just a hyped-up Twitter rumour run amok; Cowell has actually confirmed the project himself to the holiest of holies, The Daily Star Sunday. Although he's keeping a lid on the concept, theme, plotline, characters and anything else that would give us cause to miss sleep for a few days:
"I have an animation movie I have just sold. It's my concept. It's an idea I had ten years ago and the first studio I've gone to wants it… We only did the deal a few weeks ago so I'm not allowed to say any more."
Weirdly the Britain's Got Talent judge went on to admit that animation is where his heart has always been, now that he's made millions exploiting the talentless masses of Great Britain: "Making an animation is something I've always, always, wanted to do because I love cartoons." Which we guess goes someway towards explaining the two-dimensional personalities he's proffered the world in the shape of One Direction, eh?
Cowell has said it is too early to talk about casting for the film, which he hopes to have in cinemas by Christmas 2014, but sources close to the media mogul have a sneaky suspicion that at least ONE famous name will make it into the movie. One famous name that Simon has, on many occasions, admitted to being a huge fan of…
"[Simon] wants to feature in some way. He also wants the biggest Hollywood A-listers to do the voiceovers. Don't be surprised if one or two familiar faces from his reality shows appear, too."
Just… we just can't handle any more bad news. Simon, can you at least promise that this is a one-off?
"I am definitely looking to make more movies. We've already started with the Paul Potts film and One Direction movie but expect more."
That's it, we're done. If anyone needs us, we'll be sitting in a darkened room rocking back and forth.
What do you think Simon Cowell's animated movie will be about?
About The Author