The Amazing Spider Man 2: DeHaan and Foxx on set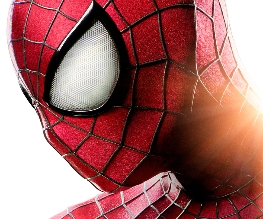 New York City has the insider's track when it comes to the filming of The Amazing Spider-Man 2. As the blockbuster's on-site location, it has given us a good gander at not only Jamie Foxx in full costume but also Dane DeHaan channeling his Harry Osborn character. We've already had a look at Shailene Woodley in the role of Mary Jane Watson as Emma Stone reprises her Gwen Stacy persona from the first installment of this super hero reboot over a month ago. So now all that's left to see is Paul Giamatti as Rhino and Chris Cooper as Norman Osborn along with a few spidey heroics from helmer Andrew Garfield.
As the latest villain, Electro, Foxx leaves behind the chaps from Django Unchained to don some eerie blue prosthetic as he wanders around Times Square. Complete with glowing blue lights, the get-up really does give us the visual marker necessary to imagine his ability in controlling electricity.
Click for more sparks:
These leaked images were quickly followed by an official pic of his alter-ego, Max Dillon, courtesy of director Marc Webb via his Twitter account. Not one to be left out, DeHaan debuted his photo as Peter Parker's best friend in a similar fashion.
All this promo however feels like a bit of a tease as The Amazing Spider-Man 2 will not be coming out until April 18th in 2014!
About The Author