Hansel & Gretel: Witch Hunters gets a new red-band trailer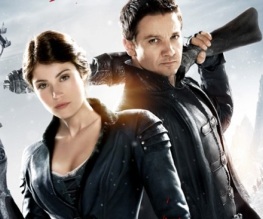 Hansel & Gretel: Witch Hunters might sound like a title we've just made up because we're bored, but it's actually a genuine movie. Starring Jeremy Renner and Gemma Arterton as the titular siblings, and directed by Dead Snow helmer Tommy Wirkola, the film is set to be a wildly over the top, tongue in cheek comedy horror. It's the latest in a recent deluge of fairy-tale films. Check out the brand new red-band trailer below.
As you can see, they're not exactly playing things straight with this one. (How could they, with that title?) Following their childhood scrape with a witch – you know, the one who lived in a gingerbread house and tried to eat them – the siblings have grown up with something of a chip on their shoulder, and turned themselves into professional witch-hunters. Pitched somewhere between Van Helsing and gory horror-comedy B-movies like Slither, this looks like it has the potential to be fun.
But we're not quite convinced. Renner and Arterton are both great, but based on the trailer, the script seems a little clunky, and some of those zingers don't so much zing as float gently around the room like a deflating balloon. "That was awesome", a kid chuckles, like a high-school slacker. Some films can get away with modern twists in past settings (A Knight's Tale, for example), but we're not sure Hansel & Gretel: Witch Hunters is suited to them.
Still, for fans of Renner and Arterton kicking arse there looks to be plenty to appeal here, but only time will tell if it's can buck the recent trend of crap fairy-tale based movies or not. Hansel & Gretel: Witch Hunters is out on March 15th 2013.
What do you think of the trailer? Let us know below.
About The Author