Six-minute clip from Anna Karenina released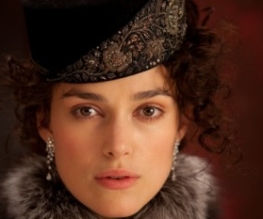 Joe Wright is so desperate for us to take his adaptation of Tolstoy's Anna Karenina seriously that he is throwing Keira Knightley's fin-de-siècle-fro at us harder than Dark Knight Rises TV spots. Here are six minutes of footage from a ballroom scene; expect Lady Mary (Michelle Dockery, Downton Abbey), plenty of uniformed smoulder and some frankly fabulous pearls. But then, Keira's always been good for a dress, if not for talent – see Atonement.
Our assessment: Keira Knightley is Keira Knightley, Aaron Johnson looks delightfully stoned throughout and Jude Law and his fivehead know fully well they have been woefully miscast. FOR SHAME, Joe Wright; this is utter shite. "Do you want me to go to Turskin?", Johnson's Vronsky asks, half-furrowing about a sixth of his brow in a show of acting that makes us want to throw the Oscar at his head; YES GOD GO TO TURSKIN.
For those of you who haven't had to trawl through the original, Tolstoy's epic is set in 19th-century Russia (duh, can't you tell by the flawless accents?) and follows the story of a socialite who puts her reputation and her marriage on the line when she falls into the arms of one Count Vronsky. Great story, but one which has always belonged in a book; despite 12 attempted adaptations to the contrary. Having seen this however, we'd like to pre-emptively encourage you to get ahold of 1960's Nahr al-Hob; the Russian accent in the Arabic language has got to be a laugh.
Anna Karenina also stars Olivia Williams (An Education), Matthew MacFayden (The Three Musketeers) and Emily Watson (War Horse); let's hope there's something they can do for Keira's face.
About The Author