David Slade and Scarlett Johansson for Pride and Prejudice and Zombies?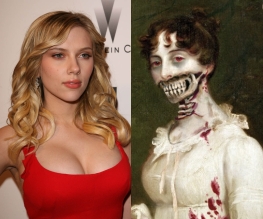 It's hard to see why anybody wouldn't want to make a film of Pride and Prejudice and Zombies, a reworking of Jane Austen's novel in which Seth Grahame-Smith livens up procedings by adding a plague of flesh-eating undead to the mix; the blurb alone is so fantastic that the book was sure to be a hit. Yet recent days have seen the upcoming screen adaptation lose not only director David O. Russell, but also star Natalie Portman. Could this already be the end for a possible horror-comedy classic?
Hopefully not, if rumours from Deadline are anything to go by. With the zombtastic script apparently having been made all the better by Russell's tweaking, several directors are said to be interested in the job, including Mike Newell and Neil Marshall. But David Slade is tipped as the lead contender, though hopefully the visual result would be more 30 Days of Night than The Twilight Saga: Eclipse.
Couple this with reports that, before leaving the film, Russell had lined up Scarlett Johansson to fill Portman's role and gotten Bradley Cooper interested in playing Mr. Darcy and this project could still be good'un. Of course, a new director may want to pick their own leads, but Johnasson certainly has the right buxom looks for a period lady-in-distress and who wouldn't want to see her fighting off the living dead in a posh frock? Well, die hard fans of the original Austen novel probably, but what do they know? This has zombies, it's a whole different kettle of awesome.
About The Author