Stephen Colbert to make an unexpected cameo in The Hobbit?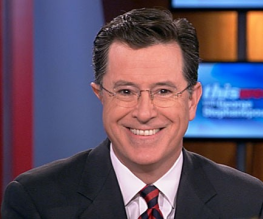 Stephen Colbert, comedian and political pundit, could be making a cameo in one of the upcoming films in The Hobbit trilogy according to a series of reports this morning. The talk-show host revealed that Peter Jackson, aware of Stephen Colbert's strong interest in the J.R.R. Tolkien books, arranged for him to be flown out to the film's location. Stephen Colbert further elaborated that he was allowed to sit in on scenes with Peter Jackson, and when he was asked if there was a chance he could be making an appearance in the films, his reply was both succinct and mysterious: "Could be." When further questions on the subject were posed to Stephen Colbert he refused to play ball and kept schtum.
Of course, with a situation like this context is everything. It's more than likely that the journalist who asked the question was joking and Stephen Colbert was simply playing along. The Colbert Report host is notoriously sarcastic and the master of using comedy and wit to get out of directly answering questions.
But lets take a moment to consider what this could mean should a Stephen Colbert cameo actually be on the cards. Which film could he appear in? How big a cameo could it be? Would it be a dramatic or comedic role? In light of the Flight of The Concords' Bret McKensie appearing in Lord of the Rings (and a further appearance in The Hobbit) as well as the casting of Barry Humphries (Dame Edna on a Tuesday) as the voice of the Goblin King in The Hobbit, Peter Jackson is clearly not averse to hiring celebrities and comedians to feature in his epic trilogy. There's probably nothing in it, but we must admit to being tickled by the idea.
Would you like to see Stephen Colbert in The Hobbit?
About The Author