Brad Pitt preparing to delve 20,000 Leagues Under The Sea?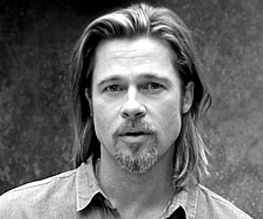 Brad Pitt is potentially due to team up with frequent collaborator David Fincher once more. Having previously worked for the director on Se7en, Fight Club and The Curious Case of Benjamin Button, Fincher is now courting Brad Pitt to appear in his version of 20,000 Leagues Under The Sea.
The plot – for those unfamiliar with Jules Verne's classic novel – concerns a team of mariners who set out to deal with a troublesome sea-monster, only to discover oddball Captain Nemo and his fantastic submarine the Nautilus, upon which he lives full-time in the name of scientific research. And also because he's exiled himself from society. While Captain Nemo himself is yet to be cast, Brad Pitt – should he accept – would be taking the role of Ned Land, a master harpoonist who would rather not remain captive on Nemo's sub for the rest of his days.
David Fincher is still awaiting a completed script for The Girl Who Kicked The Hornets Nest, the sequel to The Girl With The Dragon Tattoo (which was by no means the flop that some quarters seem to believe), and we'd love it if his 20,000 Leagues set sail in the meantime. His previous collaborations with Brad Pitt have been some of his best output, and the prospect of them working their magic again – with Se7en scriptwriter Andrew Kevin Walker writing – is a little too good to resist. All we need now is a suitably charismatic actor to face off against him as Captain Nemo.
Might we suggest Hugo Weaving?
What, you got a better idea? Well, let us know below!
About The Author