Stephen King's Cell welcomes Paranormal Activity 2 director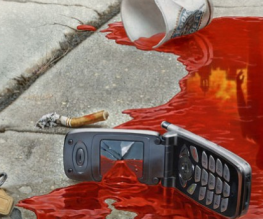 Paranormal Activity 2 was good. Admittedly, a lot better than the rest of the worn-out franchise, but somehow not as terrifying as the first. So it comes with a reasonable amount of glee to report that Paranormal Activity 2 director Tod Williams will be directing the film adaptation of Stephen King's bestselling horror novel Cell, currently starring John Cusack. John Cusack! Yay!
Will we be in for a found footage-style take on Stephen King's novel? Hopefully not. While we don't have (too) many qualms with the found footage genre, the thought of watching another apocalyptic-horror on some random guy's handheld camera sends us into a state of anxiety (not another Cloverfield, please God) – after all, we'd like to see John Cusack's face in all its glory, please and thanks. But Cell's story centres on a husband/father (Cusack) who tries to reunite with his wife and son after a mobile phone network causes a deadly surge of pulses that sends everyone into a freakish, murderous rampage. Imagine all this being filmed on Cusack's iPhone… in 3D. Just no.
Cell's screenplay has been written by Stephen King himself, and we have no doubt that it'll be the workings of a king; the author also co-wrote the script with The Last House on the Left writer Adam Alleca. Stephen King had the script done and dusted back in 2009, but since then he's reportedly changed the ending. Whether or not it will be an exact adaptation of the novel, we've yet to find out.
Interestingly, Tod Williams takes over the director's seat from Hostel's Eli Roth, who left the project back in 2009 (influencing Stephen King to change his ending?). We can only begin to imagine the bloodshed that would have been an Eli Roth-Stephen King collaboration. Damn.
Excited for Cell? Indifferent? Tell us your thoughts below!
About The Author