Stunning new trailer for Life of Pi released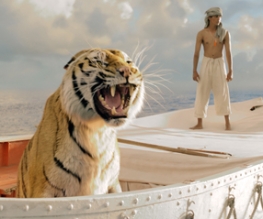 Ang Lee's back with a less gay rap, in upcoming adaptation of Yann Martel's award-winning novel Life of Pi. Famed for his work on 2005's Brokeback Mountain, after a number of duds inbetween, it looks like he might be turning it around with the release of the trailer for Life of Pi. We recommend that you watch it in as super-duper-eye-wateringly-sharp HD as you possibly can, because it's a very, very good looking bit of work.
We shan't lie – with all the boat nonsense, the lone zebra doing the doggy paddle and the "best-selling novel" (read: Bible), we thought this was for Aronofsky's Noah and were considerably more excited. Nevertheless, though the story seems as pretentiously bloated as the 2001 novel, Director of Photography Claudio Miranda's work is already commendable; along the same visually arresting lines as the trailers for Oz: The Great and Powerful and Epic, 2013 is shaping up to be a year of absolutely dazzling films, in line with the growing capabilities of 3D.
The plot follows the spiritual and literal journey of a young, privileged Indian boy called Piscine who is some sort of hodgepodge hybrid of Mowgli, Ben-Hur and David Attenborough and behaves as such for approximately 356 pages of prose. Ang, if we knew how to quit you, we wouldn't be seeing this fucking trainwreck.
Life of Pi comes out on general UK release on 21 December 2012.
About The Author