Sylvester Stallone and Robert De Niro team up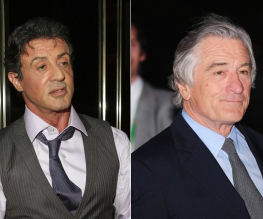 Sylvester Stallone and Robert De Niro are set to make a return to the ring… literally. The Hollywood heavyweights will star in a new feature which will see Robert De Niro play a washed up boxer who agrees to come out of retirement for one last fight. His opponent will be played by Sylvester Stallone, and Get Smart's Peter Segal is on board to direct. Comedian-turned-actor Kevin Hart star of the *ahem* much-loved classic Soul Plane, has been tapped to play a loud-mouthed promoter responsible for staging the fight.
Sylvester Stallone has several other movies in the pipeline – Bullet to the Head and The Tomb – and there are rumours that a third movie in the Expendables series is on the horizon. Although whether this is a separate project to the all-girl reboot that was recently announced has not been confirmed. Robert De Niro is in the process of filming Luc Besson's Malvita and with both actors busy with respective projects, it is doubtful that production on the as-yet untitled feature will begin this year.
Sylvester Stallone's involvement with the seminal Rocky saga in addition to Robert De Niro's role as Jake LaMotta in Raging Bull means that this is hardly new territory for either of the actors and we can't help but feel a little jaded by the perpetual overuse of the 'one last job' trope. We're also pretty sure that of the films to feature story-lines that hinge on such tropes, Robert De Niro and Sylvester Stallone have already starred in over half of them, so is there really any need for this film? It's all just a little expected.
Do the pair still have what it takes to pack a punch?
About The Author