Sylvester Stallone joins indie drama Reach Me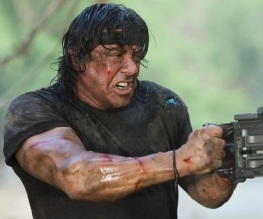 Sylvester Stallone has just finished shooting a small role in upcoming indie drama Reach Me, written and directed by his Cobra co-star John Herzfield. The Expendable, saviour of Burma and master of the ring found time in his schedule to drop in on the relatively small drama and try something a little different, possibly as a favour to long-time friend Herzfield. It'll be interesting to see Stallone as a character whose chief mode isn't killing waves of people with a Gatling gun. Unless, y'know, Reach Me goes to some unexpected places and it's required of him.
As far as we can tell, Stallone won't be his usual death-dealing ball of sweat. The skeletal IMDb page for Reach Me relates a story about a group of people connected by a self-help book authored by a reclusive ex-football coach. Stallone's co-stars include Nelly, Ving Rhames and Danny Aiello.
It's always a treat when stars of mega-wattage pop up in smaller films, either for the realisation that they can't act a jot, or seeing them tap into hidden depths. In Sylvester Stallone's case, we're fairly confident it'll be the latter that emerges. The unintelligible sea of vowels that occasionally emanate from him when he's not letting his muscles do the talking are just a device used to consolidate his meat-head image! It'll turn out he's actually very articulate, speaking in a smoky baritone reminiscent of Robert Mitchum. We reckon.
About The Author