Tatum and Levitt remake Guys and Dolls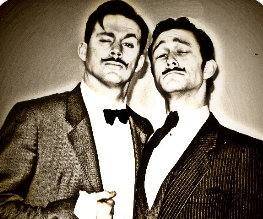 We've said it before and we'll say it again: this is the remake era. So why should musicals be left out of the fold? No reason at all as far as Fox is concerned. A report from Deadline cites that the production company has won the rights for a new version of Guys and Dolls. And they've already got the leading men sussed: Channing Tatum (Magic Mike) and Joseph Gordon-Levitt (Premium Rush).
The last time this tale from the 1920s hit our screens was 1955 when Joseph L. Mankiewicz directed Marlon Brando as the cocky Sky Masterson with Frank Sinatra in the role of the desperate Nathan Detroit. With such big shoes to fill it's fair to assume that despite their interest neither Tatum nor Levitt will sign until a writer and director have been assigned to the project.
Guys and Dolls was adapted by Jo Swerling and Abe Burrows from the short stories of Damon Runyon and premiered on Broadway in 1950. Nathan Detroit is in the hole to set up the latest incarnation of "The Oldest Established Permanent Floating Crap Game in New York" and he needs $1000 to do it. Sky Masterson, a gambler with no limits, steps in to helps but only if he wins a bet that involves Nathan getting the saintly Sarah Brown to go with him to Havana. So gambling, hi-jinx and singing: an all round good time!
Are you just dying to see Channing rock out his vocals? Or would you actually prefer to die instead? Let us know!
About The Author