Taylor Lautner to star in Tracers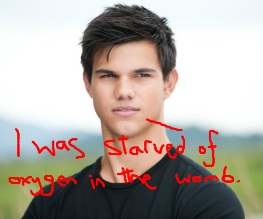 Following the spectacular critical disaster that was Abduction, Twilight star Taylor Lautner is making a second attempt at post-werewolf stardom with inane-sounding thriller Tracers.
The NYC-based film, which sounds suspiciously similar to Joseph Gordon-Levitt's forthcoming picture Premium Rush, will see Lautner play bike messenger Cam. Cam gets in debt to the mob, the silly boy, and then crashes his bike into a "sexy stranger" who introduces him to parkour. That sounds like a completely watertight plot, don't you think?
Twilight producers Mary Bowen and Wyck Godfrey are behind Tracers and are, frankly, being very blasé about the ease with which they'll be able to draw back fans of the sparkly vampires. "We've had great successes making films for this audience", said Bowen, referring of course to an 'audience' largely composed of easily manipulated girls whose ovaries still haven't done whatever the equivalent of balls dropping is. We hope she has trouble sleeping at night.
How would you execute Taylor Lautner, and on what charge? Let us know below!
About The Author