The Artist and The Descendants triumph at Golden Globes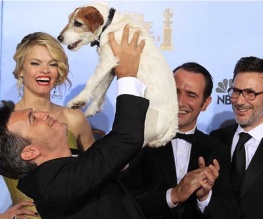 Silent film The Artist and George Clooney vehicle The Descendants came out on top at last night's Golden Globe awards, with a total of five gongs between them intensifying the Oscar buzz around each film.
The Descendants took home Best Drama and Best Actor – Drama for Clooney, whilst The Artist won Best Comedy/Musical, Best Actor – Comedy/Musical (Jean DuJardin) and Best Original Score.
The Globes' curious habit of splitting prizes between dramatic and comic films has been questioned, as it is virtually every year – The Artist, after all, could very easily have been included in the drama category, and The Descendants is a comedy-drama. Both films remain classic semi-highbrow Oscar fare. Meanwhile, Meryl Streep demonstrated the perpetual canniness of taking on disabled roles as she won Best Actress – Drama for her performance as the dementia-ridden Margaret Thatcher in The Iron Lady, whilst Michelle Williams' portrayal of Marilyn Monroe in My Week With Marilyn won her Best Actress – Comedy/Musical. Christopher Plummer – can you believe he's 82? – and Octavia Spencer picked up the Best Supporting prizes for Beginners and The Help respectively.
Several of the principal non-acting prizes went to Hollywood heavyweights – Martin Scorsese won Best Director for animated 3D feature Hugo, Woody Allen took Best Screenplay for the sublime Midnight in Paris and Steven Spielberg picked up the Best Animated Feature gong for Tintin. Rounding off the awards, A Separation scooped yet another Best Foreign Language Film prize whilst W.E won Best Song for 'Fuck off, Madonna, you're not even English' (or something). There were some TV things as well, but that's none of our business.
Do you think the Globes are pointing the way to this year's Oscars? Let us know below!
About The Author