The Book Of Mormon: The Movie?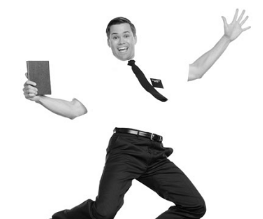 Trust us, this is good news. Even if you're not familiar with the musical The Book Of Mormon, we're almost sure you've heard of one called Avenue Q, or maybe a TV programme called South Park? Excellent. Perhaps it was inevitable that Trey Parker and Matt Stone would team up with Avenue Q creator Robert Lopez, but their creation; The Book Of Mormon has been more successful than anyone anticipated, smashing Broadway and playing to sell-out audiences every night. What's left to do, except make TONS MORE MONEY by transitioning to the big screen, eh?
The Book Of Mormon follows two enthusiastic young mormons as they travel to Africa with a plan to covert them some heathens to the Church Of Latter Day Saints. It's a brilliant satire on the potential egoism of blind faith, of bull-headed stupidity and of, well, the concept of deeply orthodox religious leanings as a whole. That's not to say that it can't be enjoyed by people who have a faith, but it's certainly fair to say that you'll have to go in with an open mind.
Here, have a song about turning off gay urges:
Despite the fact that Parker and Stone have made some encouraging noises, in all likelyhood we're not going to get a Hollywood adaptation for a few years. Considering how well the show's doing on Broadway, and with the plan to send it off on tour around the US after that, it's likely that the boys will be busy for a good amount of time. But, like a delicate lover in see-through lace; we're prepared to wait.
Still, good news for musical/Parker-Stone fans everywhere. Stay tuned…
About The Author