The Hangover Part II storms to the top of the US box office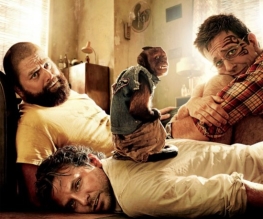 Despite the mixed reviews for The Hangover Part II (35% on Rotten Tomatoes), the sequel to the highest grossing R-Rated comedy has managed to top the US box office with a staggering $137.3 million over Memorial Day Holiday weekend. We should all be very ashamed of ourselves, so very, very ashamed.
Coming in second was Kung Fu Panda 2, another sequel, with a $68 million over the five-day weekend. Normally that figure would be an excellent one for an animated feature, however as the film is a sequel to a well liked original and has the benefit of added 3D prices, expectations were that it would have made much more than the $60 million the original opened to in 2008.
Pirates Of The Caribbean: On Stranger Tides fell to 3rd place with $50.3 million. US comedy Bridesmaids (don't call it a chick flick, it's apparently better than that) held on in fourth with $20.9 in its third week. Thor rounded up the top five with $12 million with Fast Five heading towards $200 million domestic with $8.1 million in sixth.
In limited release Tree of Life (Terence Malick) made 373,000  from four screens. Four screens!
About The Author