New trailer for 50/50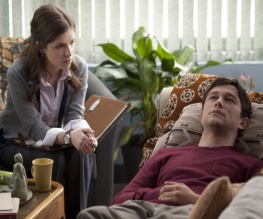 What would you do if the doctor told you that you had cancer and had only a fifty/fifty chance of survival? Make a movie about it of course! Well, not quite, but the aptly titled 50/50 stars Joseph Gordon-Levitt as spinal cancer sufferer Adam, who has to decide how to deal with his misfortune at the age of 27. 50/50 was written by Seth Rogen's friend Will Reiser and is based on Reiser's own experiences. Rogen was very keen to get the project off the ground and is one of the movie's producers. The film looks moving and amusing, with roles for Bryce Dallas Howard, Anna Kendrick (as a psychiatrist – isn't she too young for that?) as well as stellar acting bods Philip Baker Hall and Angelica Huston. If you baulk at the thought of Gordon-Levitt shaving off his luscious locks, I suggest you don't watch the below.
50/50 is directed by Jonathan Levine and unfortunately a release date has not yet been set.
About The Author